Start your automation journey with the easiest AMR on the planet.
Thouzer was designed to be simple, powerful, and flexible.
Simple to deploy and operate.  Thouzer is plug and play.  No Wifi, no Bluetooth, and no expensive setup required.
Powerful enough to pull heavy loads - up to 2000lb (900kg) per trip.
Flexible enough to meet the demands of today's modern manufacturing environments.
There are five Thouzers:
Read on for more information or click one of the links above to jump to your favorite robot.
The Thouzer Lite AMR is an entry-level autonomous mobile robot that makes moving heavy loads easy.  Just load up the robot cart, press "Follow Me," and Thouzer will obey.  It follows you wherever you go, avoiding obstacles along the way.
Thouzer Lite carries up to 100 kg (220 lbs) and includes multiple safety features. To maximize its usefulness, mount material handling structures like shelving, bins, cabinets, or cages on top of the robot. If you've been wanting to test autonomous mobile robots in your plant, the Thouzer Lite AMR is a very simple, very affordable place to start.
The Thouzer Basic is our flagship AMR and a distinct upgrade over the Thouzer Lite. Not only is the Basic smarter than the Lite, but it's stronger too!
Unlike Thouzer Lite, the Thouzer Basic AMR can easily memorize and replay routes through your facility with just the press of a button, making Thouzer Basic a truly autonomous mobile robot, without the need for WiFi, Bluetooth, training pendants, mapping your facility or complex programming. Thouzer makes it easy to start your automation journey!
Thouzer Basic carries up to 120kg (265lb) of cargo and it can tow up to another 300kg (660lb) at the same time for a grand total of 420kg / 925lb of cargo capacity - more than 4x the capacity of a Thouzer Lite! Have complete peace of mind putting these in your plant, with safety options like emergency stop buttons, safety bumpers, audible alarms, 2-D and 3-D LiDAR, safety lights, stack lights, and more.
The Thouzer Mini AMR is the smallest robot cart in the Thouzer family and is most commonly used in custom automation projects where a small footprint is required.
Thouzer Mini has all the same features as its larger siblings, including simple deployment and maintenance, multiple navigation modes, custom I/O options, and more. The Mini's footprint is just under 20"x20" and it carries up to 40kg (88lbs).
Common use cases for the Thouzer Mini include remote monitoring/inspection of large facilities, mobile digital billboards, etc.
The Thouzer Giant AMR is the workhorse of the Thouzer family. It has all the simplicity and features of a Thouzer Basic but it's bigger and stronger.
The Thouzer Giant carries up to 300 kg (660 lbs) and tows up to 600 kg (1320 lbs), meaning it can move about 2000lb per trip.
Like the Thouzer Basic, the Thouzer Giant AMR also offers advanced features such as custom I/O integrations, expandable battery packs for extended runtime, API access for IIOT applications, remote control, custom payload fabrication and much, much more. Consider the Thouzer Giant platform for your plant's automation needs!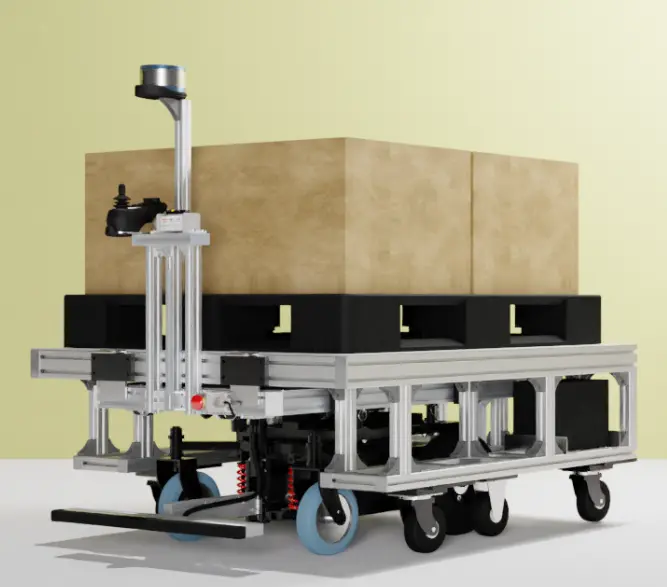 The Thouzer Giant EX is a heavy-duty variant of the Thouzer Giant autonomous mobile robot.
Purpose-built for 48"x40" palletized loads, this AMR offers an increased cargo capacity of 500kg (1100lbs) per trip, making it the strongest Thouzer AMR in production today.
If you want to simplify handling of your palletized loads without vendor lock-in and a huge infrastructure upgrade, the Thouzer Giant EX AMR is a great solution.
Which Thouzer AMR is right for me?
The Thouzer Basic and Thouzer Giant are our most popular AMRs but if you need help figuring out which model is best for you, just click the button below and we're happy to help you explore your options.
Is this thing safe?
(Yes, Thouzer AMR is safe!)
Each and every Thouzer AMR comes equipped with multiple safety features, including an audible warning device, emergency stop (E-stop) button, safety bumper, two-dimensional LiDAR sensor, and automatic collision/obstacle avoidance.
If that's not enough, you may add a stack light or other visual warning devices, additional E-stop buttons, additional LiDAR sensors , and enhanced safety margins to increase Thouzer's safety even further.
Thouzer AMRs bear the European CE mark and are in compliance with the ISO3691-4 standard for driverless trucks, as well as European standards for industrial trucks (EN12895, EN1175-1).
Common Thouzer Safety Features
Customizable audible warning
E-Stop button(s)
Safety bumper
2D and 3D LiDAR sensors
Automatic collision/obstacle avoidance
Stack light
Configurable safety margins
Three Simple Ways to Work
Thouzer AMRs offer three different navigation modes.  You get to pick which one (or ones!) works best for your facility.  None of them requires a computer, WiFi, or a training pendant.
Memory Trace
Teach Thouzer fixed routes through your facility, then replay them completely autonomously without the need for mapping the facility beforehand.
Line Trace
Line Trace Navigation allows you to design complex routes through your plant for Thouzer to run completely autonomously.  Use location IDs to send Thouzer exactly where it's needed.
Need help sorting through it all?
We get it.  There's a ton of information out there, not just on our site but on all the others also.  We'd be happy to help you make sense of it all.  Just fill out the contact form below and we'll be in touch within one business day.  If you want to speak to someone right now, call 513-202-4050.